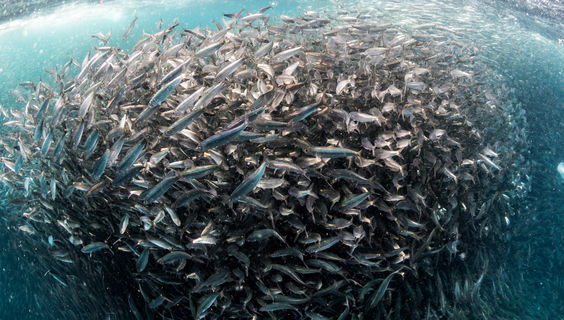 © Expert Tours
KwaZulu-Natal: Sardine Run nachhaltig erleben
Drei Spezialveranstalter haben sich zur South African Sardine Run Charter Owners' Association (SASRCOA) zusammengeschlossen. Der Sardine Run ist für Taucher, Fotografen und Meeresfans eines der außergewöhnlichsten Naturspektakel der südlichen Hemisphäre.
Im Zeitraum von Mai bis Juli, dem südafrikanischen Winter, ziehen Millionen von Sardinen an den Küsten KwaZulu-Natals entlang und locken als fette Beute Haie, Delfine und Wale an.
Die neue Vereinigung der Veranstalter African Water Sports, Adventure the Deep und Dive Expert-Tours hat sich zum Ziel gesetzt, bei allen künftigen Sardine Runs einen umweltfreundlichen, verantwortungsvollen und nachhaltigen Umgang mit allen Meeres- und Landtieren sowie dem Ozean sicherzustellen.
Dafür wurden in Abstimmung mit dem Department of Environmental Affairs and Tourism Richtlinien und ein Verhaltenskodex definiert, der den touristischen Zustrom der Küstenlinie regulieren soll.
INFORMATIONEN
https://sasrcoa.co.za